Due to measures to combat the COVID-19 Pandemic, MOST of the population is quickly discovering the benefits of conference technology, whether for business, casual group or family use. But as usual, there are SO MANY OFFERS! And So Many Features!
As of April 1, 2020
How to decide what conference platform is for you?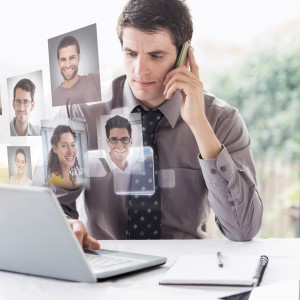 Numerous conference platforms developed free offers or trials in response to the recent push into conferencing technology brought on by stay-at-home and work-from-home orders in the spring of 2020. Obviously, we're a little partial to the simplicity of Free Conference Calling from No Cost Conference, but our feature list is actually quite different from a number of the leading platforms out there, and it can take considerable time to wade through the various feature lists to figure it all out. We figured it made sense to take an objective look at it and try to provide some honest guidance. So here you go:
Audio conference services: NCC
Those that can include screen sharing: Uber Conference, Join.Me
Those that can include screen sharing and live video: WebEx, GoToMeeting, Skype, Google Hangouts, Zoom, Ring Central
Note that 1) Many of these services are offering free business-level plans to educational, non-profit, NGO and charity operations; and 2) For the purposes of this article, we restricted the platforms reviewed to those offering free/nearly free options for small to medium sized groups, not necessarily for the 5,000 employee business operations.
** With services offering MANY simultaneous video connections, it should be obvious that they can't allow all of them to be visible on your screen (especially a phone). Most limit to 15 or less.
◊ If you are a G Suite user (have a gmail email address from your company domain), you get access with more users and additional features already.
So Which Conference Service for YOU?
If low/no cost is a big factor in your decision making, go with NCC, Uber Conference (for small groups), Join.Me (for screen sharing) or Skype (for live video). Some of these services offer larger group calls as part of more expensive premium plans. Of these services, only NCC gives you calls of more than 100 participants for free (actually, up to 1000, and even more if it's pre-arranged). If you want to make sure your callers don't see any airtime or long distance charges, or have callers in other countries, have them call into any conference system via Skype or some other VOIP service.
If you need to share your screen with a small group, Uber Conference is the best value. WebEx, GoToMeeting, Skype, and Google Hangouts also offer this service, but with some additional hurdles (typically limited user numbers, or account registration).
For live video, Zoom, Skype and Google Hangouts are the clear winners of this group, with Skype limited to 50 participants, and Google Hangouts offering up to 25 (**although it's easy to see how a video call will become unwieldy at anything over 10, depending on your screen size). Keep in mind that video calls are very bandwidth intensive, and that adding more users on video calls multiplies the chances of some kind of glitch or technical failure for at least one person.
Beware the Free Trial – What Comes After? Free trials are not only there as a service to the community during COVID-19, and for you to use the service to see if it fits your needs, but certainly the service providers are hoping you will become familiar with their service while it's free and continue to use it as a paid service once the trial has expired. It's best to avoid a situation where you must jump to another service in a few months to avoid an unbudgeted cost. If your budget simply won't allow for a paid service, limit your search now to only those with a core free offer that is permanent, like NCC Free Conference Calling Standard, for example.
NOTE: In every case, users will need to connect to your conference in some way that is reliant on their internet connection, phone carrier, or some level of technical savvy. The lowest barrier is typically the best for large groups, and that's almost always going to be the simple phone.