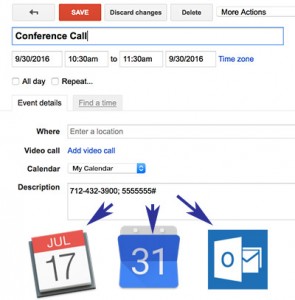 Scheduling a conference call is a daily or weekly business reality for much of the working world. Nearly everyone shares the same goal of trying to make things simple, and avoiding adding another tool, another login, another process to complete common tasks.
No Cost Conference has tried to keep things simple by allowing you to use the system any time you like (no reservation needed), and encouraging you to notify participants by leveraging existing tools you already use: Your email program of choice, and your calendar system.
First Option for Scheduling a Conference Call: Mass email
When you signed up for the No Cost Conference service, the confirmation included a simple template for inviting participants via email. Here it is again for your reference:
— Email Template Invitation for Your Participants –



Please join me for a conference call:
Date:
Time:
To Join the call, dial the conference phone number (712-432-3900) using any phone or VOIP service. When prompted, enter your access code [CODE HERE] followed by the # key. The conference will begin in Conversation Mode (all participants will be able to talk). Participant keys can be used by all callers on the conference call.
Participant Keypad Options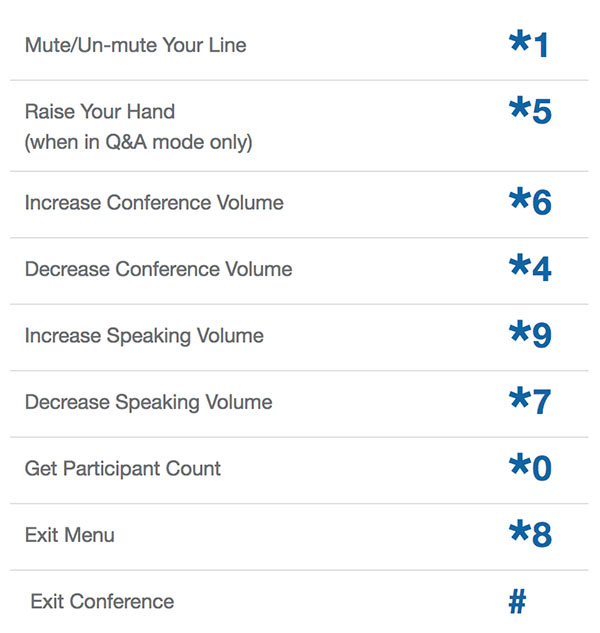 I look forward to our call. Thank you.
— End of Email Template —
Simply create an email going out to all of your recipients, copy and paste this template, modify it specific to your needs (don't forget the conference access code!), and send it out. We've done most of the work for you.
Option 2: Using your calendar
NCC believes in your privacy, and won't ask you to upload your contact list to our system. Instead, we provide the information you need to utilize the applications you already have.
For many of you, this is common practice, and you're already proficient at creating a calendar event and inviting participants. For those who are new to this process, we offer the following guides:
Scheduling a Conference Call using Google Calendar »
Scheduling a Conference Call using Outlook Calendar »
Scheduling a Conference Call using Apple iCal Calendar »
When you successfully complete a conference call invitation using one of the tools you already use, you'll find it's super easy the next time. Most people are able to complete these tasks in less than two minutes. If you have other ideas for saving time, or corrections to our posts, please leave them in the comments.