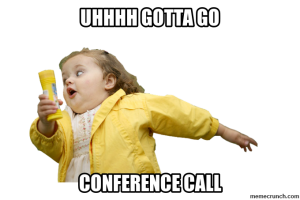 You've got a conference call in two minutes! At least the conference line at the office is probably free.
But you're not at the office. Uh oh.
You're in the car, getting coffee, running errands, or just coming out of another meeting. What to do?
You could set up your conference call via smart phone – we have provided detailed instructions for you covering iPhone and Android conference calls – although these only work for small groups of a few people, and callers are stuck waiting until you wrangle all the others by their individual numbers.
Or… you could sign up quickly for Free Conference Calling Standard with No Cost Conference, and be up and running in less than one minute:
Go to Free Conference Calling Standard Signup
Sign up, using just your first name, last name, and email
Copy the dial in number and conference code from the confirmation page
Text or email to your conference group of any size, with phones of any type
Call in and get rolling…
You're done! And you can use the number and code over and over – it's yours. See, now wasn't that simple?