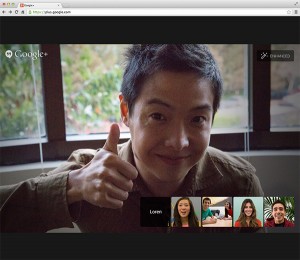 Google hangouts can be a good solution for your conference call. It's typically good quality video and audio (if your internet connection is strong), and doesn't require additional downloads for most users. It does, however, require:
That each participant have a Gmail or other Google-enabled email address
That the moderator/host know these email addresses
That all participants have a web cam device and audio pickup (mic)
That all participants allow the Hangouts application access to video and audio on their computer/phone (phone users must download the Hangouts app)
A group of 10 or fewer participants
If your group is larger, or any of the other above items causes you concern, you should consider a Free Standard Conference Call account with NCC. While we do not offer video, you can have conference calls of up to 500 participants, with no cost.
To Set Up a Google Hangouts Video Call:
Log into Gmail or any other Google service
Locate the menu for other applications (group of small boxes in upper right)
Click Video Call option (voice-only option instructions below)
Invite other users from your contact list, or by entering their Google-enabled email address

They will each receive an invitation via email

When all have connected, enjoy your video call
You can end the call by clicking the red button at the bottom of the screen
To Set Up a Google Hangouts Voice Call (one to one only):
You MUST have a Google Voice account in good standing, with available credit

If not, a basic account will be created on first use

Locate Google Hangouts as above
Click the Phone Call option
Invite a user from your contact list, or by entering their phone number directly (make sure to include international codes if outside the United States)
Click Call
You may choose to add phone users to your Video Call, too, to get more people on the line. Click the green invite button at the top, and enter a phone number. Each user can add one phone user.
Things you should know about adding a phone caller to a video call
•    Each video call participant can only dial in one phone participant.
•    Anyone in the video call can make or end the phone call.
•    The phone participant can't mute anyone and can't be muted. The phone participant can use their phone to mute themselves.
•    Phone calls in Hangouts create a limited Google Voice account so that you can manage the basics, such as calling credit and call history. This Google Voice account will not have all the features of Google Voice. Only people in the U.S. can have full Google Voice accounts.
If this all sounds too complicated, video isn't important for your use, or you have more than 10 people that need to connect (which makes a video call nearly impossible anywya), choose our Free Conference Call with Web Control option.