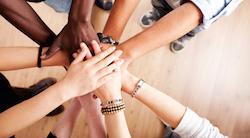 You may be looking at a variety of no- or low- cost conference call providers, and wondering which way to turn. Maybe it helps to know what kind of groups and business operations are using NCC services are part of their regular operations. Below is a list of organizations using No Cost Conference Free Conference Calling. Most are using Web Control, but some find that the Free Conference Calling Standard has the features they need.
Various small businesses like:
Small hardware store chain in the midwest uses NCC to connect management weekly
Numerous sales organizations utilize NCC to connect remote/traveling sales teams
Corporations of all sizes use NCC services to hold SEC-required investor relations calls
Support groups like:
Alcoholics Anonymous
Adult Children of Alcoholics
Overeaters Anonymous
Clutterers anonymous
Churches use NCC for:
Local government agencies such as:
County and township offices
School boards
Election campaigns
Miscellaneous organizations like:
Laughter Yoga
AntiCancer Club
World Peace Diet
Basically any organization with people spread out, or with mobility issues, finds NCC services a valuable part of their toolset. If you need to connect people, and are on a tight budget, what's stopping you?